Savannah Cat Breed Information Facts & 30+ Pictures
The Savannah is a hybrid of a domestic feline and a medium-size African wild cat, the Savannah is a challenging and rewarding companion. between an African serval and a domestic cat. The first known breeding was in the early 1980s Judy (or Judee) Frank, a Bengal breeder located in Pennsylvania. In the early 1990s, Patrick Kelley, founder of Savannahcat.com, enlisted Joyce Sroufe to help him develop the breed, with Kelley using offspring of that first hybrid cross. Their efforts were successful, as were their efforts to convince TICA to accept the new breed.
The Savannah is typically described as a medium-size breed, however. Her weight can range from 8 to 20 pounds, sometimes more. Males are larger than females.
The Savannah is a lovely cat who's full of personality, but he's definitely not the cat for everyone, or for first-time cat owners. A Savannah is highly intelligent, curious and active, qualities that require a lot of patience to live with. He demands a lot of interaction and will find ways to make you give it to him if you aren't on the ball enough to provide it without asking. For instance, he might learn to set off the alarm on your clock-radio to make you come running to turn it off.
Savannahs have a short, luxurious, soft coat that is easy to care for with weekly brushing. He will love the attention, and if you brush him more often you will find fewer dust bunnies and hairballs around the house.
Featured savannah cat : En.Wikipedia
Featured savannah cat : En.Wikipedia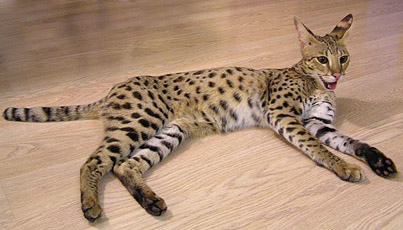 Featured savannah cat : F3Savannahcat
Featured savannah cat : F1Hybridssavannahcats
Featured savannah cat : Pinterest
Featured savannah cat : Pinterest
Featured savannah cat : Pinterest